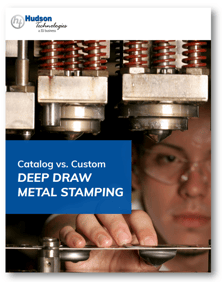 When working with little or no tooling, Hudson's catalog is an excellent way to begin prototyping your new project. But when Hudson's catalog enclosures won't meet clients' specific needs, custom metal stamping is often an ideal choice.
Download the "Catalog vs. Custom Deep Draw Metal Stamping" eBook to learn why a custom solution might be a better fit. The eBook includes:
An overview of catalog and custom metal stamping advantages
Benefits of using custom metal stamping for the Automotive industry
A case study for a closer look at custom metal stamping
And more...
Fill out the form on this page to access the eBook.