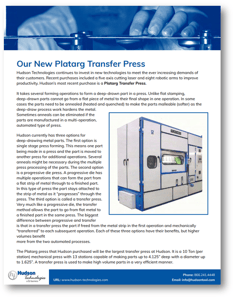 Hudson Technologies continues to invest in new technologies to meet the ever increasing demands of customers. Hudson's most recent purchase is a Platarg Transfer Press.
The Platarg press is now the largest transfer press at Hudson. Download the brochure to learn:
The advantages of the Platarg Transfer Press
The differences between progressive die and the transfer method
The three options Hudson offers for deep-drawing metal parts
And more...
Fill out the form to access the brochure.